Step out into the life you were designed for! Choose the perfect program for YOU.
Featured Products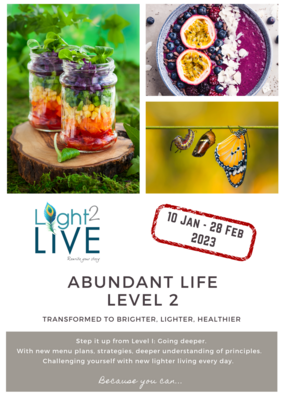 ABUNDANT LIFE Level II
Group program for all clients who completed Level I program successfully
Level I: A new journey awaits
When embarking on a new journey, it may seem scary. But take heart, you have your guide right next to you all the way. From day 1 to day 42 at the end of the 6 weeks. On your new lifestyle journey you will be equipped with many tools, knowledge and supported with a system that acts as your safety net on challenging days. Every day is planned forward with your specific needs taken into account. All you have to do is to take the first step...
Consultations and events
Need specific advice on a topic. Book a personal consultation with one of our coaches